About Me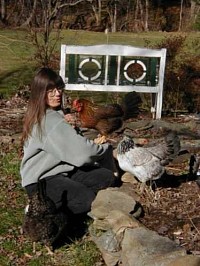 Decades of Experience
  I have loved nature all of my life... both plants and animals.  When I was a kid, I wanted to be an ichthyologist (fish scientist), and I collected and bred all kinds of tropical freshwater fish.  To complement my 7 aquariums, I also kept finches, parakeets, gerbils, chinchillas, snakes, anole lizards, toads, turtles, insects, and of course dogs. 
After graduating high school, I became involved in animal husbandry and worked for 11 years at the University of Pittsburgh Animal Care facility. I was in charge of many types of research animals from mice to horses. I still hold a certificate in Animal Technology.  But being around animal research can be hard on a person and at the end of 11 years, I called it quits.  I also had developed severe allergies to the rats and mice anyway, so it was best to change  my field....And thus began my pursuit of horticulture. 

I attended college in Pennsylvania and received a degree in Horticulture, specifically, floriculture which is basically greenhouse growing.  Then I branched out into landscaping.  I managed greenhouses and worked in garden centers before starting my own garden and landscaping business in Pittsburgh.  All of this time though, I still loved animals and owned sheep, a goat, 2 dogs,  an African grey parrot, a conure, fish, and many orphaned birds.  I also rehabilitated a few snakes.

In 1999, I decided to move to northern Virginia to continue landscaping and to pursue the field of pet care.  I have now settled in the beautiful Pleasant Valley area of  Maryland and I couldn't be happier...with my 2 dogs, cat, finch, conure, fish, and greenhouses and of course...my husband, Dave. :-)  

Along the way,  I have also earned my Master Trainer Fitness certification  from the International Sports Sciences Association, so along with pet care, I will also provide personal training and nutrition coaching  for people.